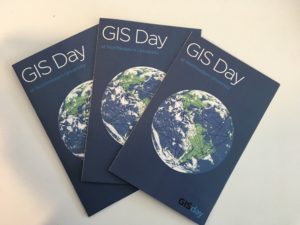 The Digital Scholarship Group celebrated a GIS Day event for the very first time at Northeastern University on November 16th, 2016.  This international event always happens on the Wednesday of Geography Awareness Week in November.
This year, about 1,000 different institutes, schools and organizations celebrated GIS day and Geography Awareness Week all around the world. Bahare Sanaie-Movahed coordinated this successful event at NEU with the support of the NULab for Texts, Maps and Networks, the College of Professional Studies, and Snell Library.
The celebration started with a GIS workshop open to the NEU community, held by Bahare. The workshop covered a wide range of topics about identifying, exploring, and understanding spatial data, as well as creating a general reference map with QGIS. The public event began at 2:00 PM, with attendees from all across New England. Also present were various geospatial companies which were invited to the event.  Patrick Florence, the Associate Director of Geospatial Technology Services at Tufts University, delivered a remarkable keynote about the history and advancement of GIS. Some excellent GIS projects were presented by NEU graduate and undergraduate students throughout the day.
Finally, attendees participated in a grand tour of the library, followed by a reception, which was accompanied by refreshments and great conversation on the advancement in GIS academia and industry.