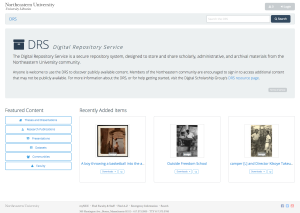 Northeastern University Libraries and the DSG are proud to announce the release of the newly redesigned Digital Repository Service! The Digital Repository Service (DRS) is a digital storage and preservation tool that allows the Northeastern community to store materials that are produced at the university or are important to the university's mission. Faculty are welcome to upload their research materials, publications, datasets, presentations, and staff can store important administrative materials, like departmental photographs and documents.
Anyone is welcome to use the DRS to discover publicly available content. Northeastern faculty, staff, and students are encouraged to sign in to access additional content that may not be publicly available.
The DRS will completely replace the library's existing repository tools, IRis and the DRS beta service, by the end of 2015. In fact, most of the material stored in those systems have already been migrated to the new DRS.
As of today the DRS has over 60,000 files stored, and more than half of those files are available to the public:
1,677 master's theses and doctoral dissertations granted by Northeastern since 2008.
1,217 publications authored by Northeastern staff and faculty.
16 archival collections from University Archives and Special Collections, including photographs from the Boys and Girls Club and Freedom House collections.
25,000 photos from Northeastern's Office of Marketing and Communications (faculty and staff access only).
And growing…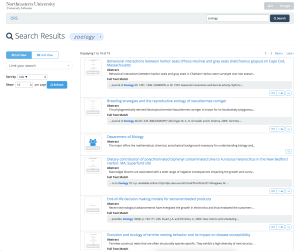 As the content in the DRS grows, so will its features. The DRS was built by library development staff using an open-source digital storage system with wide community adoption, which allows library staff to easily maintain the system and to implement features as needed. At launch the DRS already has several user-friendly features, and future DRS developments will include features that directly support Northeastern Community's needs, like:
We encourage everyone to visit the DRS to view the impressive collection of material produced by Northeastern faculty, staff, and students, and faculty are invited to start uploading their materials right away. For more information about the DRS, or for help getting started uploading your files, please visit our DRS resource page: https://dsg.northeastern.edu/resources/drs