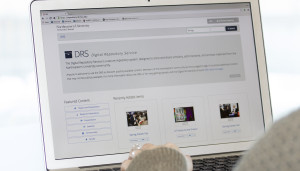 The DRS [https://repository.library.northeastern.edu] is a secure repository system, designed to store and share scholarly, administrative, and archival materials from the Northeastern University community.
The DRS was developed by Northeastern University Libraries as a tool for University faculty and staff to protect the valuable information and data that has been created as part of the University's research and instructional mission. It provides long-term security for the files it stores, as well as access management controls and support for various metadata standards to help ensure that data is as accessible and usable in the present and the future.
Discovering and Depositing
Anyone is welcome to use the DRS to discover publicly available content, like theses and dissertations or the University Archives and Special Collections Digital Collections.
Members of the Northeastern community are encouraged to sign in to access additional content that may not be publicly available, like photographs from the Office of Marketing and Communications or certain research materials.
There are several ways for DRS users to deposit material in the DRS. Northeastern faculty and staff can sign in and start depositing right away; others can contact DRS staff to get permission to start depositing on behalf of their department.
Collections and Communities
The DRS is structured as a digital representation of the Northeastern University community. Colleges, Departments, and research groups are represented as independent communities underneath the Northeastern University umbrella, each with their own collections of scholarly or administrative files. Northeastern University faculty and staff are also represented in the DRS, and they can curate their own collections of scholarly or administrative files. The DRS community structure easily supports interdisciplinary work and relationships between communities, staff, and faculty.
Features
Self deposit
Faculty and staff may deposit their own material.
Simple Sign In
Members of the Northeastern community can sign in to the DRS using their myNEU username and password.
Support tools
Support documents include a User Guide and an FAQ. Training sessions are available for groups through the DSG (https://dsg.neu.edu/events/) or individually via request.
Saving
Materials may be saved to Sets or downloaded for future use.
Secure access
Sensitive or private files can be safely restricted to authorized users only.
Advanced tools
Advanced features include batch upload, file statistics, and access to the DRS API.
Open Access
In the spirit of Open Access, sharing research as widely as possible is highly encouraged, and access to most deposited Northeastern research materials is unrestricted.
Technology
The DRS was developed using series of open source technologies that have been widely adopted in the digital repository community. The underlying storage architecture of the repository is Fedora (Flexible Extensible Digital Object Repository Architecture). The interface was built using Samvera (formerly known as Hydra), which is a suite of tools and technologies that processes the files and metadata stored in Fedora so users can interact with them in a meaningful way. Samvera uses Ruby on Rails to program, Solr to index, and Blacklight to enable searching and browsing.
CERES: Exhibit Toolkit
The DRS provides mechanisms through which repository data can be used in other venues, such as departmental portals, digital research projects, and online publications through CERES: Exhibit Toolkit. Because the DRS is built using Fedora Samvera, which allow for the creation of a user-friendly API, objects stored in the DRS can be accessed and displayed using customized web-publishing tools. Projects that take advantage of the DRS API can customize how users view and interact with their digital content. An example of this framework in practice is the Terp Talks video series portal from Northeastern's National Interpreter Education Center. The site itself is built using WordPress, but the video content and metadata come from the DRS.
Get Started
The DSG offers a variety of services to help users get started with the DRS, including consultations, trainings, workshops, and general guidance. Links to the DRS FAQ and a User Guide are available in the DRS Quick Links box. For more information about the Digital Repository Service, view our DRS Information Sheet, or contact DRS Staff [Library-Repository-Team [@] neu.edu].