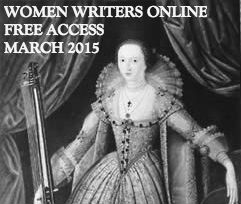 The Women Writers Project is happy to announce that Women Writers Online will be freely available during the month of March, in celebration of Women's History Month. We invite you to explore the collection at:
http://wwo.wwp.northeastern.edu/WWO
Women Writers Online now contains more than 350 texts published between 1526 and 1850, including new works by Aphra Behn, Charlotte Turner Smith, and Mercy Otis Warren.
The Women Writers Project has been offering free access to Women Writers Online every March since 2007. "I see Women's History Month as an opportunity for us to thank the community that supports the Women Writers Project," said Julia Flanders, director of the WWP and of the Digital Scholarship Group. "Even though we rely on Women Writers Online to fund the WWP's ongoing research and outreach activities, we try to find ways to make it available to researchers and teachers."
To draw attention to the many exciting texts in Women Writers Online, the WWP will also be highlighting one or two texts a week through the @nuWWP Twitter feed. This week's text is Lady Mary Wroth's 1621 prose romance The Countess of Montgomery's Urania, which features adventure, betrayal, a lost princess, and pirates.
We hope you enjoy the collection!
Post by Women Writers Project Manager Sarah Connell. Visit our Projects page for more information on Digital Scholarship Group projects like the WWP.
(Public Domain image of Lady Mary Wroth via Wikipedia)